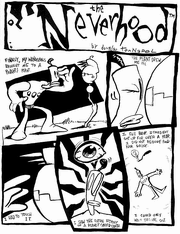 NOTE: This article has a conjectural title. There is no official information about its real title, so it has been giving a fitting one.
Comic Zero is an old comic by Doug TenNapel. This comic, along with the other ones, has nothing to do with the actual games. 
Klaymen finds a strange plant (possibly the Ma Bird) and he touches it. Klaymen then states he saw "the entire history" of "a planet called Earth". Klaymen then says he was so surprised by this he became paraylized for over a year.
The plant Klaymen encounters may be the Ma Bird, but this plant pays almost no resemblance to the Ma Bird in-game.