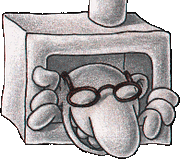 NOTE: This article has a conjectural title. There is no official information about its real title, so it has been given a fitting one.
The guy on TV is briefly seen hanging in the ceiling of the Aqua House. He is best known for saying "Hey, Klaymen, say knock knock" and Klaymen cannot interact with him. The guy on TV tends to watch Klaymen as he walks across the screen. 
Appearance
Edit
The guy on TV is a head and hands popping out of a TV screen hanging from the ceiling. The guy on TV is bald, has a big nose and wears glasses. He has three fingers hanging out of the TV screen.